The Breakthrough Broker Collateral Documents
These documents are perfect tools for learning more about Breakthrough Broker and Agent Engage. There are six collateral pieces, two of which are designed to give you - our partner - a better understanding of how to use Breakthrough Broker. The other four are great resources to print and share with Realtors to educate them about BreakthroughBroker.com.
For you:
Partner FAQ -This document provides answers to the most popular sales executive questions.

---
Partner Features Overview - A document that highlights the key features and benefits Breakthrough Broker offers our clients.
Download the Partner Benefits Overview here

---
For your Realtor contacts:
Agent FAQ - Share this document with Realtors to answer any and all questions they might have.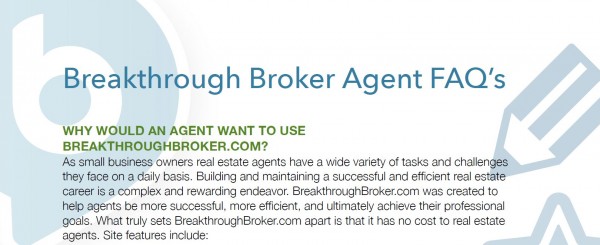 ---
Breakthrough Broker Features Overview - A thorough overview of the top features on Breakthrough Broker.
Download the Breakthrough Broker Agent Overview here

---
List of Content - A list that covers all of the content an agent will have access to by creating a profile on Breakthrough Broker.
Download the List of Content Here

---
Agent Testimonials - A look into what agents are saying about Breakthrough Broker.
Download the Agent Testimonials Here